Antivirus

Antivirus
Забезпечує комплексний захист від кіберзагроз

Optimizer

Optimizer
Clears caches

Speedup

Speedup
Uploading application from RAM in order to speedup and increase battery life.

Internet Security

Internet Security
Blocks potentially dangerous sites

Anti-theft

Anti-theft
Забезпечує захист даних на смартфоні в разі крадіжки або втрати пристрою

Blacklist

Blacklist
Дозволяє блокувати отримання SMS і вхідних дзвінків від небажаних адресатів

Parental control

Parental control
Блокує небажані для відвідування сайтів за визначеними категоріям

Tablet version

Tablet version
Антивірус має повноцінну планшетну версія

Best price

Best price
Оптимальна ціна для забезпечення повноцінного захисту Android-пристрою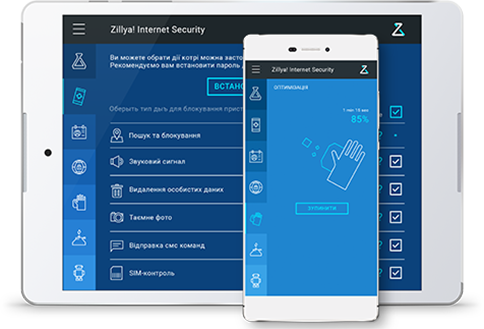 About
the product
THE Zillya! ANTI-VIRUS SERVICE is an innovative model whereby an anti-virus is offered as an online subscription service. Managing the Zillya! Anti-virus service is easy. Activate a subscription, protect your smartphones and pads under control of OS Android.